For Parts & Service, please call:
905-821-8860 ext 358
Dust Collector Replacement Parts

AST Canada maintains an inventory of dust collector parts for most major brands of industrial dust collection equipment, available for quick delivery to your location.

Learn More about Replacement Dust Collector Parts
Dust Collector Filters

AST Canada maintains an inventory of most major filters, available for quick delivery.

Learn More about What Type of Filter You Need
Dust Collector Repair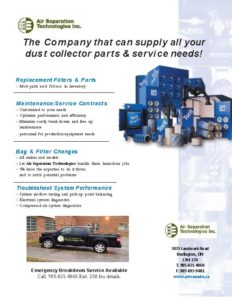 AST Canada does repairs on most brands of dust collectors. Just call our maintenance department at the number above to have our service technicians help you.
Dust Collector Maintenance Service Contracts

AST Canada is the only Authorized Torit Service Centre in Ontario. We have Certified, in-house Torit Service Technicians.our service contracts are:

⚬ Customized to your needs
⚬ Optimized for performance and efficiency.
⚬ Structured to minimize costly break downs
⚬ Designed to free up your maintenance personnel for production equipment needs
⚬ Compliant with Ministry of Environment emission regulation standards

Available Emergency service 24 hours a day, 7 days a week
Bag & Filter Changes

AST Canada does dust collector filter media changes on all makes and models of dust collector equipment. Let us handle these handle these hazardous jobs for you and free up your maintenance staff to work on production equipment requirements. Our service technicians can often spot potential problems while doing change-outs, so proactive steps can be taken to avoid costly breakdowns.
Dust Collector System Performance Testing

AST Canada can performance test your dust collector system and make recommendations for:

⚬ System air-flow
⚬ Pick-up point balancing
⚬ Electrical control system diagnostics
⚬ Compressed air system diagnostics
Emergency Service - 24 hours a day, 7 days a week
Call 905-246-0904