Tri-Mer Fan Separators
Removes Sulfuric Acid & Other Contaminates from Air Stream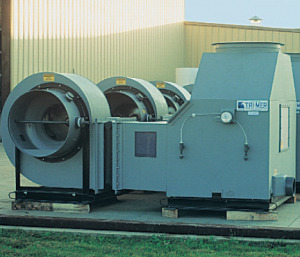 Tri-Mer Fan Separators are engineered for simple installation and start-up effecting low start-up costs.

To withstand the corrosive atmosphere where it is used, the fan separator is constructed from polypropylene, PVC, fiberglass-overlaid PVC and stainless steels. The Fan separator is packaged, as a stand-alone system.

Tri-Mer Fan Separators are ideal for steel pickling plants or battery charging operations amongst other industrial applications.

Tri-Mer's Fan / Separator is designed to use a fan as a centrifuge in the scrubbing process. The fan velocity is precisely controlled so that air crossing the rigid packed media stays within design parameters.


Efficient Operation - Lower Cost


This is an all-mechanical system that operates with 20% less brake horsepower. The system is positively pressured, working the reverse of conventional "negative air" scrubbers pushing the air through the system rather than pulling - resulting in a 15 - 20% reduction in energy consumption.

Further efficiencies include:
requires less than 10% of water used by competitive scrubbers
operates with 25% lower BHP requirement
scrubbed air can sometimes be returned to the plant, saving HVAC costs