Tri-Mer C/E-1 Chrome Scrubber
99.5%+ Efficiency for Cr6, Cr3 Regardless of Loading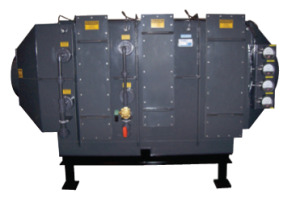 The Tri-Mer C/E-1 Chrome Scrubber scrubs all chrome including Cr6 & Cr3 regardless of input loading. It's all-mechanical pad system design does not use chemicals or generate waste yet has no internal moving parts that can wear. The C/E-1 is scalable for any facility or process size.
The Tri-Mer C/E-1 Chrome Scrubber features a multi-layer polypropylene pad system which operates under negative pressure. The filter apparatus is washed continuously in a nearly closed loop
configuration. When chrome levels approach set point (generally 3000 ppm) water is forwarded to chrome recovery, or returned to the plating bath.
System Design
This Tri-Mer C/E-1 chrome scrubber is a low energy system generating less than 8" of internal static pressure, boasting an extraordinary low energy consumption. The average water consumption is low at 15 gallons per hour for a 20,000 cfm unit. The chrome can be recovered from both the gas stream and the filter.
Installation
The chrome scrubber is simple to install and operate and is available in single units to capacities of 50,000 cfm. Installation can be accomplished by AST Canada or your own plant personnel. The scrubber comes on a standard skid-mounted package which includes duct connections, controls interfacing, fan, recirculation tank, pump and piping.
Long Service Life
The standard C/E-1 is constructed of Type 1 PVC, the material recommended for high chrome
concentrations. The estimated minimum service life of the filter is five years under continuous use. The system is projected to provide ten years of continuous service before primary maintenance is required.