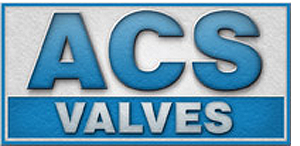 ACS Valves
ACS Valves' design, engineer, and manufacture rotary valves for metering, feeding, and airlock in bulk material processing and pneumatic conveying applications. Their products are sold through a global network of sales representatives and supported by a corporate staff of applications engineers and customer services technicians.
All equipment from ACS Valves complies with local regulations including the Ontario Fire Code (OFC), the Ontario Ministry of Labour (MOL), the Ontario Ministry of the Environment (MOE) and NFPA Standards.
ACS CI Series - Rotary Valve for Metering, Feeding and Airlock Applications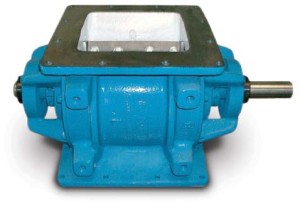 Rotary Airlock Valve
Rotary valves manufactured by ACS Valves are designed to provide improved performance to bulk material processing and production operations. In dry material metering applications ACS Valves products ensure accurate material loading and unloading while also functioning as highly efficient rotary airlocks; minimizing pressure loss throughout the system.
The CI Series rotary valves are also available in sanitary 304 or 316 cast stainless steel models. Sanitary CI Series models also offer the ACS RotorRail™ quick-clean feature.
Features and Benefits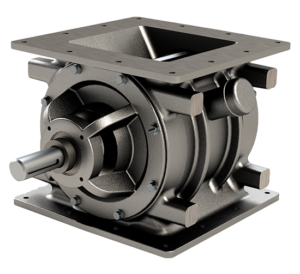 • Available in 10 heights, from 10"H to 44"H; and 10 square-flange sizes from 6" to 26".
• Valve housing cast in North America; ensures superior strength and solidification of housing's metallurgy.
• CNC-machined components and housing provide precision tolerances; eliminates axial shaft movement, extends maintenance cycles.
• Outboard bearing design protects bearings in high-temperature and high-PSIG applications; removes bearings from direct path of damaging contaminants.
• Easily manages pressure differentials up to 15 PSIG; with super-duty series up to 22 PSIG.
• Excellent performance in high-temperature applications up to 750°F.
• Cast iron housing.
• 8-vane rotor with beveled tips and sides.
Options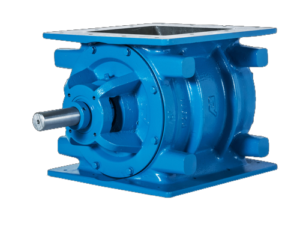 • 304, 304L, 316, 316L, or 2205 cast stainless steel valve housing.
• No. 4 finish on internal product contact surfaces of housing, and all rotor surfaces.
• Interior coatings: hard chrome, tungsten, nickel, and epoxy.
• Rotor types: closed-end, metering, shallow-pocket, adjustable-tip, and Teflon®-coated.
• Adjustable rotor tip types: EPDM rubber, polyurethane, mild steel, hardened steel, stainless steel, and bronze.
• Shaft seal types: ACST-4™ glandless Teflon® shaft seal, and packing gland.
• Valve housing vent ports.Shaft seal and rotor pocket air purge.6-vane, 10-vane, or 12-vane rotor.
• Custom drive packages.
• Application-specific accessories: blow-through adapter, shear plate deflector, surge hopper, motion speed switch assembly.