Donaldson Torit WSO Mist Collectors
The Donaldson Torit WSO mist collector is the only collector that filters three types of mist (water, smoke, oil) in one collector - simply by changing the mist filter. It was designed to collect water-soluble coolant, straight oil, and the most challenging, oily smoke from a variety of machining operations and other industrial processes. The WSO mist collector design has several configurations such as machine mountable, single machine stand mount, ducted cellular- and central system to meet your plant mist collection requirements.
WSO Mist Collectors
​The only mist collector you need
The versatile Donaldson® Torit® WSO Mist Collector provides three filter solutions for water-soluble coolant, straight oil, and the most challenging, oily smoke. The WSO uses revolutionary Synteq XP™ Media Technology engineered for superior draining, resulting in lower pressure drop and longer filter life.
The WSO can be modified with a simple filter change, leading to leaner operation, cost savings and cleaner plant air.
WSO Offers:
- 3 in 1 solutions for mist applications
- Advanced Synteq XP high efficiency media
- Cross-flow design for better drainage
- Easy to change cartridge filters
- Energy savings
- Continuous-duty design
- Lower life cycle costs
- Quiet operation
- Configurations for machine mounting, floor stands, or ducted central systems
- UL-approved electrical components
- 10-year warranty
The WSO Difference
​The WSO mist collector can be configured to meet your facility's requirements: machine mountable, floor-mounted stand, and ducted cellular and central systems.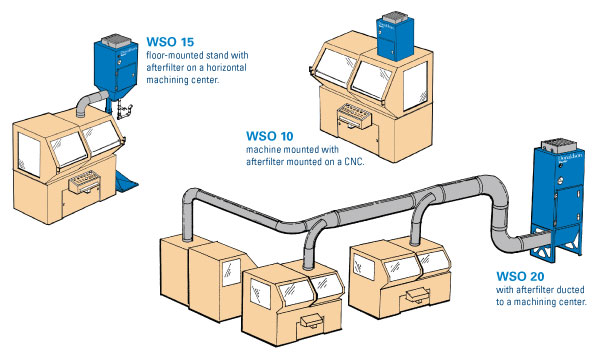 ---
Easy Filter Maintenance

Differential pressure gauge(s) identifies filter maintenance.
---

One pivot lever securely retains the primary filter element.
---

Filter is easily removed.
---

Simplified servicing means less maintenance time and cost.
---
Versatile in Application, Flexible in Design
3rd Stage: Final Filter (optional)
- DOP, 95% efficient on .3 micron mist and smoke
- HEPA, 99.97% efficient on .3 micron mist and smoke
2nd Stage: Primary Filter (select one)
- Synteq XP - W, For mist from water-soluble coolant, Economical, fast draining, for heavy water-based liquid load
- Synteq XP - S, For smoke from machining, Highest efficiency for challenging applications
- Synteq XP - O, For mist from straight oil machining, Efficiency designed for small oil aerosols
1st Stage: Prefilter Options (select one)
- Metal Screen, For heavier dust/grit from wet grinding
- Metal Mesh, For most water-soluble mist
- Polypropylene Mesh, For most straight oil mist
- High Efficiency 1st Stage, For oily smoke
Oblong Cartridges Outperform Traditional Filters
WSO Oblong Filter Shape Features: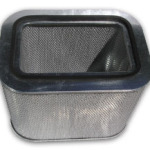 - Up to 45% more filter surface area than pocket filters and round cartridges
- Best fit in rectangular cabinet
- Lower pressure drop
- Longer filter life
Cross-Flow Design
Cross-flow filter design for better drainage means longer filter life. Dirty air flows horizontally through the walls of the WSO filter, perpendicular to drainage of collected and coalesced mist. This design promotes optimum drainage, which extends filter life and returns collected coolant for re-use. Conventional mist collectors have an upflow design impeding drainage and causing short filter life.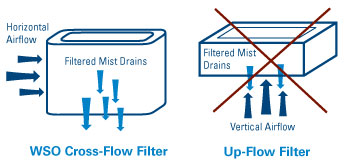 ---
Choose the Best Filter for your Application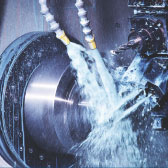 Water Soluble
Typical Particle size:
2-20 micron
---

Smoke
Typical Particle size:
0.07-1.2 micron
---

Oil
Typical particle size:
0.8-5 micron
---
Advanced Filter Media for Mist
Proprietary Synteq XP Media Technology is a revolutionary new media for mist collection that provides high efficiency, low operating pressure drop, and long filter life when compared to traditional media.
This photo from our Scanning Electron Microscope and the illustration show why Synteq XP Media Technology provides superior performance on mist collection applications.
Synteq XP Media Technology with Resin-Free, Binding Fibers
- Engineered blend of small and large fibers, with proprietary, resin-free bonding system
- Small fibers are scientifically proven to increase efficiency
- Large fibers provide structural support and clear drain channels
- Proprietary bonding system stabilizes pore structure for optimum performance
What are the advantages of Synteq XP Media?
Proprietary Synteq XP Media is engineered with a blend of small and large fibers with a resin-free bonding system. The result is superior performance and longer filter life in the most challenging applications.
What size are mist droplets/particles?
Mist can generally be defined as a liquid droplet 20 microns in diameter or smaller. Oil-based fluids typically produce mist droplets that range from 0.5 microns to 10 microns. A smoke droplet is typically smaller, from 0.07 microns to 1 micron, and is a solid or liquid aerosol.
What determines the performance of a mist collector?
A mist collector can be characterized by pressure drop, efficiency, and flow rate. Pressure drops affects the energy required to pull the airflow through the system. The efficiency of the system determines how clean the air will be as it leaves the collector and flow rate determines how much air will be cleaned.