Donaldson Torit Modular MediaFilter Horizontal Mist & Smoke Collectors
Donaldson Torit Modular MediaFilterTM Horizontal mist and smoke collector provides flexible, high performance mist collection for a wide variety of applications including grinding, wet machining, rubber machining, die casting, wet grinding or soldering. The Modular MediaFilter Horizontal mist collector system adapts to changing needs such as smoke, dust and fume filtration, saving the cost of a new filtration system. Whether you require horizontal or vertical configuration, we can design and supply a mist collector system to meet your needs.​
Modular Mediafilter Horizontal Mist Collectors
​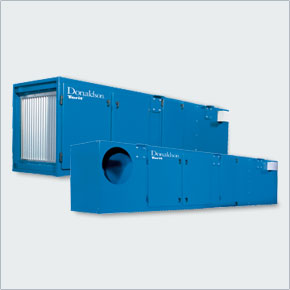 High performance mist collectors for ambient or source capture designed to filter mist, smoke, dust, fume, and odors from grinding, wet machining, soldering and other metalworking applications.
Modular design customizes unit to specific application.
Offers a variety of design layouts and filter choices for both flexibility and expandability.
Wide range of power packs, prefilters, filters, and module options.
Ceiling mount, horizontal design saves valuable floor space.
Design features provide easy filter changeout and simple maintenance.
Available in ambient or source capture models.
Provides a cleaner work environment for maximum productivity.
Helps support OSHA Clean Air Standards.
FEATURES AND BENEFITS
40% ASHRAE MULTI-VEE
Prefilter for dry or slightly wet dust or gas and vapor (24" x 24" x 4").
IMPINGER
4" prefilter for light to heavy mist or dust collection in wet and dry grinding.
ALUMINUM MESH PREFILTER
Aluminum mesh filter works to trap large particles (24" x 24" x 1").
OPTIONAL FIRST-STAGE HIGH EFFICIENCY FILTER
4" prefilter for heavy mist applications.
PRIMARY FILTER MODULE
Primary filter module for filtering mist, smoke, dust, and fumes.
95% ASHRAE VEE-BAG
36" fiberglass vee-bag captures the remaining mist particles.
HEPA FILTER MODULE
Secondary afterfilters for heavy smoke, dust, and fume.
POWER PACK WITH DIRECT DRIVE FANS
POWDER COAT
FINISH
Powder coating finish is durable and chemical resistant.
10-YEAR WARRANTY
Equipment Options for Source Collector Modules
| | |
| --- | --- |
| First-stage high efficiency filter, 24" x 24" x 4" | Multiple power pack options, including explosion-proof motors |
| First-stage multi-vee filter, 24" x 24" x 4" | P-Trap assembly |
| HEPA/95% DOP filter module, 24" x 24" x 11.5" | P-Trap with Y-Strainer assembly |
| Carbon filter module | 1-gallon container​ |
What size are mist droplets/particles?
Mist can generally be defined as a liquid droplet 20 microns in diameter or smaller. Oil-based fluids typically produce mist droplets that range from 0.5 microns to 10 microns. A smoke droplet is typically smaller, from 0.07 microns to 1 micron, and is a solid or liquid aerosol.
What determines the performance of a mist collector?
A mist collector can be characterized by pressure drop, efficiency, and flow rate. Pressure drops affects the energy required to pull the airflow through the system. The efficiency of the system determines how clean the air will be as it leaves the collector and flow rate determines how much air will be cleaned.