Torit PowerCore Filter Packs
Donaldson Torit PowerCore Filter Packs feature Ultra-Web nanofiber media with longer filter life. CP Filters, and TG Filters packs are changing the way we collect dust.
High Performance Filter Media
One Torit PowerCore filter pack replaces multiple cartridge or bag-style filters
Fast and easy filter pack changes
Reduced maintenance
High filtration efficiency for reduced emissions
Reduced freight & installation costs
Technology proven in field applications for more than 10 years
Torit® PowerCore® CP Series collectors with PowerCore filter packs are changing the way we collect dust and they are available only from Donaldson® Torit®. PowerCore technology has proven itself in other industries for nearly 10 years and is ready to make the baghouse collector obsolete.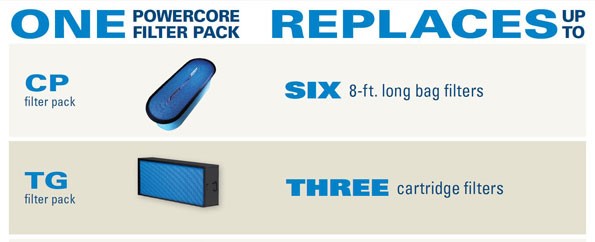 PowerCore®​ CP​ Filter Pack

Ultra-Web® nanofiber media ensures longer filter life at a significantly lower pressure drop.
Superior particle release due to surface filtration.
​Fluted media construction prevents bridging in fibrous or agglomerative applications.
​Smaller and lightweight filter pack design with built-in handles.
​Easy filter changeout for quicker maintenance—no tools required.
MERV 15 filtration efficiency rating per ASHRAE 52.2-2007.
Powercore®​ TG​ Filter Pack

​Flame-retardant Ultra-Web nanofiber media ensures longer filter life at a significantly lower pressure drop.
​Surface filtration offers superior particle release.
​Fluted construction allows more effective filter area to be packaged in smaller spaces.
​Filter pack is designed with easy-grip handle.
​Easy filter changeout for quick maintenance—no tools required.
​MERV 15 filtration efficiency rating per ASHRAE 52.2-2007.
Can dust bridging become a problem with Torit PowerCore?
No. There is no chance of bridging between PowerCore filter packs—and therefore no plugging due to bridging—in a Torit PowerCore collector. Here's why: * Bridging happens in baghouses because the pulse-cleaning knocks accumulated dust down the length of the filter, and often it accumulates in the lower interstitial spaces. On particulate that tends to stick to itself or nest, the accumulation builds, eventually into a bridge. Torit PowerCore is engineered with computer-modeled fluid flow analysis to manage the incoming dirty air and the velocities directed into the filter pack, avoiding interstitial problems. And, the PowerCore filter pack is only 7" deep, so there's virtually no opportunity for a dust bridge to develop. * Donaldson Torit's new Compact Pulse Cleaning System is a proprietary, computer-modeled pulse-cleaning technology designed to match the "ob-round" shape of the PowerCore filter pack. The pulse pattern covers the entire media pack and pulses the dust out of the fluted channels. There is no possibility of bridging.
What kind of filter media is used in PowerCore filter packs?
Our best: our Donaldson-developed and proprietary Ultra-Web® media. It's made of two layers—a sturdy substrate bonded with a thin layer of nanofibers—that capture both small and large particulate—resulting in a very high performance media. The EPA PM2.5 testing proves it. PowerCore filter packs have 78% FEWER emissions than traditional polyester filter bags.
Can I retrofit my current collector with PowerCore filter packs?
Not at this time. Torit PowerCore uses an advanced filtration technology. The filter packs, tubesheet, pulse-cleaning system and engineered airflow of the collector have been optimized as an integrated system. Retrofitting an existing collector is not advised.
Why do PowerCore TG filter packs recover better than traditional filter cartridges?
If you experience those job shifts of cutting typical 10 gauge sheet metal today and 1/4" or thicker plate steel tomorrow, the better recovery feature means a lot to you. PowerCore TG filter packs can handle the shift in dust loading better than any traditional filter cartridge because they can collect more dust and they are cleaned by the channeled pulse energy of the Zero-Turn Pulse Cleaning System. Therefore, PowerCore TG filter packs recover more easily than traditional filter cartridges from dramatic spikes in pressure drop during pulse cleaning. The result is longer filter life.