Donaldson Torit Filter Cartridges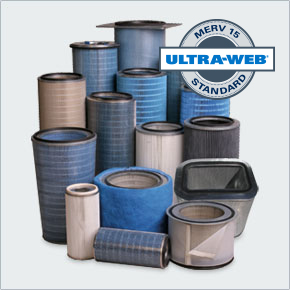 Donaldson Torit replacement cartridge filters deliver longer filter life, higher efficiency and energy savings, saving you time and money. We have more than 90,000 replacement filters for all collectors in stock and ready to ship in 24 hours, Donaldson Torit is your source to get better replacement filters fast.
Ultra-Web Nanofiber Technology
Donaldson Torit's Ultra-Web Nanofiber Technology uses a layer of fibers 0.2 to 0.3 microns in diameter to capture contaminants less than one micron in size. With nanofiber filters, dust particles rapidly accumulate on the filter surface to build a thin, permeable dust-stopping cake. As a result, our filters offer the highest filtration efficiency by eliminating premature filter plugging and allowing the dust cake's release during the collector's cleaning cycle.
The Nanofiber Advantage
Increased surface loading
Captures sub-micron contaminants
Enhances dust cake release
Better cleaning efficiency
Lower cost per cubic foot of air per minute
Lower energy costs
Cartridge Filters for Dust Collector
No equal in performance and value.
Donaldson® Torit® filters keep dust collectors operating at peak performance. Offered for a full range of dust, fume and mist collection applications, Donaldson Torit filters—especially our proprietary Ultra-Web® filters—outperform and outlast other filters.
When it comes to Ultra-Web filters, there is no equal in performance and value.​​​​​
​All filters are not alike. Equip a dust collector with a generic replacement filter and expect the performance of that collection system to decline. What's worse, generic replacement filters selected for their initial lower purchase price often waste manufacturers' time, productivity and money in the long run.
Donaldson Torit Cartridge Filters Offer:
Higher performance
Increases efficiency
Longer filter life
Greater value