Explosion, Flame and Spark Isolation
Numerous processes can cause explosive dust/air mixtures within industrial systems (dust collectors, mixing machines, fluid bed granulators, mills, and the like). If ignition sources cannot be eliminated due to process conditions, these systems are often equipped with explosion protection measures like venting or suppression. This way, connected ductwork is decoupled or isolated from protected enclosures and flames and explosion pressure will not be conveyed into other areas.
Q-Flap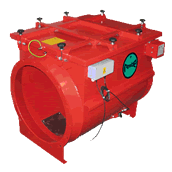 Q-Flap® Compact and Q-Flap® Compact Plus Non-Return Explosion Valve
- passive system
- no complicated sensors
- cost-efficient
- easy to use
- easy maintenance via inspection door
Exkop® Quench Valve With Electronic Controller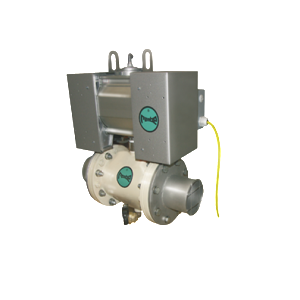 Explosion, Spark and Flame Isolation
The EXKOP® system provides a safe, economic and easy way to isolate and protect production equipment in case of an explosion, spark and/or flame front up or down stream. The system is made up of two REMBE products, the EXKOP® Quench Valve and EXKOP® Mini controller.