REMBE® Explosion Panels
Why choose REMBE® Explosion Panels for Explosion Venting?
Explosion Panels Built with Precision & Detail

REMBE® Explosion Panels distinguish themselves by extremely precise bursting pressures.
REMBE® Explosion Panels are non-fragmenting and have ideal opening characteristics, resulting in maximized vent opening and pressure release.


Explosion Panels for All Environments

REMBE® offers explosion protection panels for most applications and working conditions. Whether your application is a highly corrosive environment or other extreme working condition, such as frequently changing, pulsating or vacuum pressure, REMBE® has the right explosion panel for your facility.
ODU/ODV Rupture Disc Panel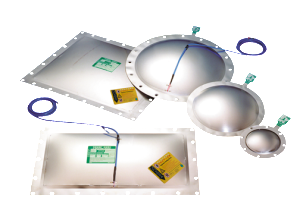 ODV Triple-Layer, High Performance Explosion Vent Panel
The ODU/ODV domed triple-section bursting discs developed by REMBE@ have been in use for over 35 years - distinguishing themselves by their sturdy construction and reliability.
The use of the ODU/ODV is especially recommended for explosion protection under tough working conditions where there are constant changes in pressure, from vacuum to high pressure, such as in a filtering system with low volume and regular pneumatic cleaning cycles.
ODV triple-layer explosion panels and discs are mainly used for applications with low or middle burst pressures. The burst pressure is determined by the burst element that has integrated breaking points and its sealing part. Breaking points are made by CNC-controlled laser Micro-cutting machines, which means the highest possible precision is delivered.
EDP Single Layer Explosion Vent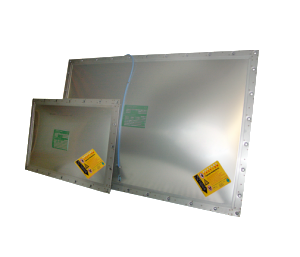 EDP Single-Layer Domed Explosion Vent Panel
A single-layer EDP explosion protection panel is suited for slightly fluctuating working pressures.
The EDP has a high level of stability and resilience due to its domed construction.
The highly-rated breaking points (Pat. No. EP 07 73 393) are integrated within the mounting frame.
Contamination is minimized by the explosion protection panel's domed construction, and sterility and cleaning is simplified (SIP/CIP cleaning).
Ex-Go-Vent Single Layer Explosion Vent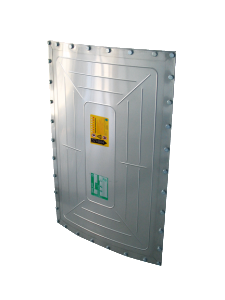 EX-GO-VENT Single-Layer Explosion Vent Panel
The REMBE® EX-GO-VENT explosion panel is optimal for a wide range of applications. This flat, single-layer explosion panel has a perfect venting efficiency due to its low specific weight.
Incorporated bionic structures guarantee an extraordinary stability that fits most standard applications.
Due to the patented concept of combined gasket and breaking points configuration, it is unnecessary to control the torque.
Silos, filters, bucket elevators and dust collectors are all examples of appropriate applications for the EX-GO-VENT explosion panels.
Ex-Go-Vent-HYP Single Layer Explosion Vent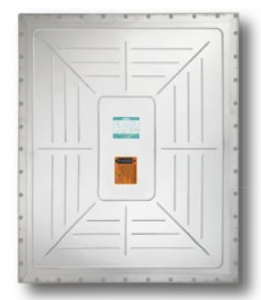 ...versatile implementation in hygienically demanding areas
Most production facilities create dust as a byproduct and are under an obligation per OSHA's National Emphasis Program and NFPA Standards, to reduce the risks of a dust explosion. ATEX 114 (Directive 94/9/EG), EC type-tested explosion panels offer an economic solution and, in the event of a dust explosion, the explosion pressure is reduced to a harmless residual pressure level within the plant.
Targo-Vent Explosion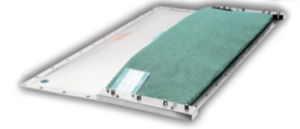 Traffic routes within facilities and public roads play a critical role in planning and implementation of conventional, free explosion venting. With conventional explosion venting, the pressure wave and flame blast must be deflected into protected areas. Since such effects would result in severe hazards in areas with access for people, the operator must provide for special safety measures
or large-scale clearance. This additional requirement significantly increases operational expenditures or demands more costly solutions, such as flameless venting or what is referred to as explosion suppression.