The Most Influential Design in Industrial Air Filtration History
The Donaldson Torit Downflo® II cartridge dust and fume collector revolutionized dust collection in the 1980's with a proprietary downward airflow design that delivers high filtration efficiency. DFT has ledgeless construction, so is often chosen for agglomerative applications.​
Downflo II Dust Collectors
Engineered for reliable performance
The long-standing, most influential cartridge collector in industrial air filtration history, the Donaldson® Torit® Downflo® II (DFT), delivers optimum performance and is one of the best values available in today's marketplace. A leader in the industry for over 20 years with thousands of successful installations in place, DFT dust collectors ensure steadfast, trouble-free operation. The DFT advantages can be found in the collector's proprietary design and components.
Now featuring a ledgeless design in combination with proprietary Ultra-Web® filter media and proprietary cleaning technology, the DFT continues its strong performance in traditional applications such as metalworking. It also generates interest and respect in process applications where ledgeless construction is often a requirement. Providing higher efficiency and smaller footprints than any baghouse collector or even other cartridge collectors, DFT adds up to long-term savings and improved performance in many applications.
DFT OFFERS:
Ledgeless Construction
​Eliminates dust build-up and accommodates wash down environments.
Compact Design
Minimizes floor space.
Powerful Performance
Proprietary ExtraLife™ Filter Cleaning System provides 30% more cleaning energy.
Cost Savings
Fewer filter changeouts, reduced filter disposal costs, less energy usage.
Reliablity
Exceptional results for over 20 years and counting.
Easy System Setup
Easy Maintenance
10-Year Warranty
| | |
| --- | --- |
| DFT Standard Operating Conditions | |
| Seismic Rating (zone) | 4 |
| Wind Load Rating | 100 |
| House Rating ("wg) | ​+15 / -20 |
| Compressed | ​90-100 |
| Valves and Controls | 50/60 KHz |
Pulse Cleaning Technology
ExtraLife Filter Cleaning System uses proprietary, computer-modeled pulse cleaning technology to easily "pulse off" dust from the surface of the filter, improving filtration efficiency and prolonging filter life. The red lines in the illustration show the increased pressure at the front of the Downflo filter generated by the ExtraLife system. The blue line shows the pulse signature of a standard cartridge collector.
Pulse gradients produced by the standard Downflo during pulse cleaning compared to gradients produced by a Downflo with the ExtraLife Cleaning System (red).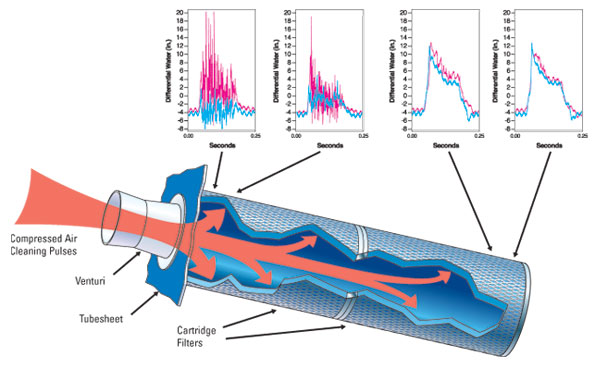 Collector Design​
Standard
Optional
Mild Steel Construction

✓

ExtraLife Filter Cleaning System

✓

Inlets

✓

Ledge-Free Hopper

✓

Sprinkler Taps

✓

Stainless Steel Construction

✓

High Temperature Construction

✓

Direct Drive Fans

✓

Chamber and Exhaust Silencers

✓

Abrasion Resistant (AR) Inlet

✓

Air Management Modules

✓

Extended Dirty Air Plenum

✓

Steep-Sided Hopper

✓

2-Mod Hopper

✓

Explosion Relief Vents

✓

Sprinkler Heads

✓

Service Platform (OSHA compliant)

✓

Damper Pack

✓

Drum Sentry Drum-Full Indicator

✓

Lined Clean Air Plenum

✓

Bag-Out Kit (Filter & Discharge)

✓

Bag-In/Bag-0ut Kit (Filter & Discharge)

✓

Cartridge Filters
Standard
Optional
Ultra-Web (MERV* 15)

✓

Ultra-Tek (MERV 12)
Thermo-Web (MERV 14)
Fibra-Web (MERV 14)
Ultra-Web SB (MERV 15)

Ultra-Web AS (MERV 15)
Torit-Tex (MERV 16)

✓

HEPA/ASHRAE Afterfilters

✓

Paint System
Standard
Optional
Prime Coated Interior

✓

Textured Multi-Coat Paint Finish with 2,000-Hour Salt Spray Performance

✓

Custom Color

✓

Premium Duty Finish

✓

Epoxy Coating

✓

Hopper Discharge
Standard
Optional
Drum Cover and Hose

✓

Slide Gates

✓

Rotary Valves and Transitions

✓

Screw Conveyors

✓

Electrical Controls, Gauges, and Enclosures
Standard
Optional
Solid State Timer in NEMA 4 Enclosure

✓

Magnehelic** Gauge

✓

Delta P Control, Delta P Plus Control

✓

Custom Panels

✓

Photohelic** Gauge Standard & Weatherproof

✓

Basic Cold Climate Kit

✓

Heavy-Duty Cold Climate Kit

✓

Solenoid Enclosure (NEMA 7 & 9)

✓

Warranty
Standard
Optional
10-Year Warranty

✓
*The Minimum Efficiency Reporting Value (MERV) of this filter cartridge has been determined through independent laboratory testing using ASHRAE 52.2 (2007) test standards. The MERV rating was determined at a face velocity of 118 feet per minute and loading up to four inches water gauge. Actual efficiency of any filter cartridge will vary according to the specific application parameters. Dust concentration, airflow, particle characteristics, and pulse cleaning methods all affect filtration efficiency.
** Magnehelic and Photohelic are registered trademarks of Dwyer Instruments, Inc.​​
Ultra-Web Technology Provides Filters that Deliver
Proven and proprietary Ultra-Web® technology delivers longer filter life, cleaner air and greater cost savings.