Donaldson Torit IRD Dust Collectors
The Donaldson Torit IRD Dust Collector is designed to use a downflow air pattern and gravity to clean dust trapped on the inner surface of the filter bags and to force the dust into the disposal bags at the bottom of the collector. This unique design means that expensive compressed air is not needed in the operation of the IRD dust collector.
IRD Dust Collectors
An easy and economical solution for a wide range of wood dust collection applications.
Complete dust collection package includes fan, fan motor, push-button fan starter, bag filters and clear plastic dust disposal bags.
Fan provides high vacuum pressure with low operating sound levels for cleaner workplaces and lower sound levels.
Down flow air pattern allows airflow and gravity to move filtered dust to collection receptacles for longer bag filter life and reduced pressure drop.
Adjustable airflow baffles equalize dust dispersion to all collection receptacles, which minimizes emptying cycles.
Cageless filters and tool-free filter replacement reduce maintenance time.
Filtered air returning to interior workspace reduces HVAC costs.
Dura-Life™ "Twice the Life" bag filters provide longer bag life, which reduces maintenance costs and lowers pressure drop.
Optional automatic shaker is available for better collector performance.
Fans with higher static pressure are available for more demanding applications.
Operational Explanation
Dust laden air is pushed into the dirty air plenum by a high volume, high pressure heavy duty material handling fan. The dusty air is evenly distributed down inside of the high flow polyester bags which capture the dust and allow clean air to pass back into the work environment.
Dust captured inside the bag is carried down into the dust receptacles at the bottom of the collector via gravity and airflow. An optional automatic shaker is available for even better collector performance.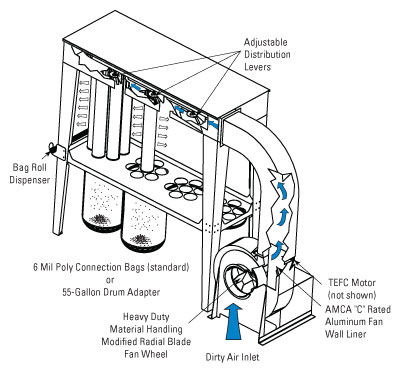 Collector Design
Standard
Optional
Down Flow Design

✓

Airflow Balancing Baffles and Levers

✓

Cageless Filter Design

✓

Tool-Free Filter Removal

✓

Minimum 14-Gauge Carbon Steel Construction

✓

12 Gauge Carbon Steel Tubesheet

✓

Integral Dust Disposal Bag Storage Rack

✓

Direct Drive High Output Material Handling Fan

✓

AMCA C Rated Aluminum Fan Wall Liner

✓

230/460, 3 Phase TEFC NEMA Premium* Efficient Motor

✓

Filter-to-Fan Transition

✓

1/3 HP Auto Shaker

✓

Exterior Weather Kit

✓

Bag Filters
Standard
Optional
7 Diameter x 60 Long Dura-Life Polyester Bag Filters

✓

Paint System
Standard
Optional
Liquid Alkyd Finish

✓

Standard Colors: Torit Blue or Storm White

✓

Dust Collection Receptacles
Standard
Optional
50 - 6 Mil Clear Plastic Disposal Bags with 10 Cubic Foot Capacity

✓

Quick Opening Cam Clamps for Disposal Bag Change

✓

55-Gallon Drum Adapters

✓

Support Structure
Standard
Optional
10 Gauge Carbon Steel Construction

✓

Electrical, Controls, & Enclosures
Standard
Optional
Push Button Magnetic Fan Starter in NEMA 1 Enclosure

✓

Shaker Controls in NEMA 4 Enclosure
(comes with the following features)

- Manual and Automatic Shake Switch

- On-Time Automatic Shake Adjustment Dial

- Off-Time Automatic Shake Adjustment Dial

- 120 Volt Cord

✓

Warranty
Standard
Optional
10-Year Warranty

✓
*All 60 Hz motors 1 HP and above are EISA compliant. NEMA Premium is a registered trademark of National Electrical Manufacturers Association.
Dura-Life Bag Filters
A cost-effective, high performance alternative.