Rembe Inc - The Company


Decades of Experience
Rembe has been dedicated to operation safety for more than 45 years with the single aim to provide the best possible protection for your systems and processes. This ensures that you always receive an honest analysis and products of the highest quality.
Focused on You
Rembe works diligently and responsibly, fully focused on the customized optimization of your routines, manufacturing processes and products. Your facility is unique with individual processes and requirements, Our Rembe experts will have a close look at your entire plant and help you determine what's genuinely reasonable and what will be the best solution for you and your perfect investment in safety. We will identify improvement modifications and create a profitable safety policy for you that is perfectly geared to suit your company.
Certified Safety Products Compliant with Ontario Regulations
REMBE® explosion protection, process safety and measurement products are manufactured in accordance with IAW National and International Certifications, Standards and Norms (i.e., NFPA, ASME VIII, ATEX, DIN-EN ISO 4126-2, - 4126-6, AD2000-Merkblatt A1, PED, Promtomnadzor, GOST-R, GOST-K, CML, API, BS2915, KTA). The company is certified according to DIN-EN ISO 9001:2008. All Rembe equipment complies with local regulations including the Ontario Fire Code (OFC), the Ontario Ministry of Labour (MOL), the Ontario Ministry of the Environment (MOE) and NFPA Standards.
REMBE Explosion Safety Products
Rupture Discs
Rupture discs are, next to safety valves, the most commonly used pressure protection devices in industrial plants. They protect vessels and pipelines from deformation and other damage. The main objective is to optimally protect and, at the same time, minimize the downtime of the system.They have a defined breaking point, which responds to a specific pressure to relieve pressure a diverse range of applications. They protect against over-pressure or vacuum within a process, for the protection of man, environment and machine.

REMBE®, INC. has dedicated itself to a 40+ year tradition of providing top-quality explosion protection and process safety products and services to every industry. Throughout the world REMBE® experts have a single aim – to provide the best possible protection for your systems and processes.
Breather Valves - The Elevent®
The ELEVENT® pressure and vacuum relief valve provides optimum protection against overpressure and vacuum for vessels and tanks with low design pressures. It assures a constant and controlled level of pressure in a tank. ELEVENT® not only prevents fugitive emissions of gas, or other pollutants, but also prevents the development of explosive mixtures of substances and eliminates the potential danger of air entering the system.
ELEVENT® is used in the oil and gas industries, food processing, the chemical and pharmaceutical sectors and power plant technology.
The optimized "air cushion" sealing principle provides a smooth valve stroke and an extremely reliable leak-tight seal. This prevents abrasion and valve chatter. The metal housing is made from deep-drawn stainless steel.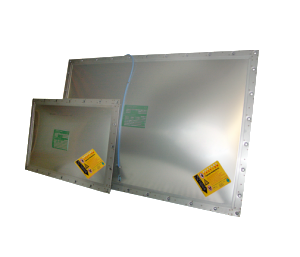 REMBE® offers explosion vents or explosion vent panels that will rupture in unbalanced pressure conditions thus protecting the vented vessel by reducing the overpressure in a controlled manner.

Rembe manufactures explosion vents for wide spectrum of environments. Explosion vents are made in many different sizes, shapes and materials to survive in different temperatures, pressure conditions, extreme environments and corrosive atmospheres.
Rembe High-Quality Explosion Vents:
• are easy to install
• have extremely precise busting pressures
• are virtually maintenance free
• have a long service life
• are quick and easy to replace after an explosion
Explosion vents – the reliable and cost-effective solution for explosion safety.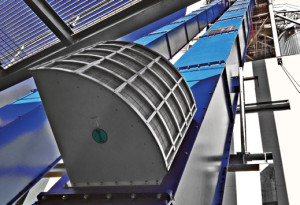 With conventional explosion venting, flame propagation as well as shock waves are directed into "safe" areas, but in reality could endanger anyone located in the surrounding areas. Likewise, the typical pressure wave and noise in the production hall are reduced to a barely perceptible minimum. The filter design guarantees that no burned or combustible materials are ejected. This does not only reduce the consequences of the explosion, it also provides the highest level of protection for employees.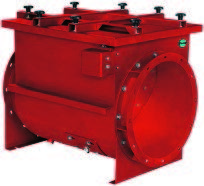 Numerous processes can cause explosive dust/air mixtures within industrial systems (dust collectors, mixingmachines, fluid bed granulators, mills, and the like). If ignition sources cannot be eliminated due to process conditions, these systems are often equipped with explosion protection measures like venting or suppression. This way, connected ductwork is decoupled or isolated from protected enclosures and flames and explosion pressure will not be conveyed into other areas.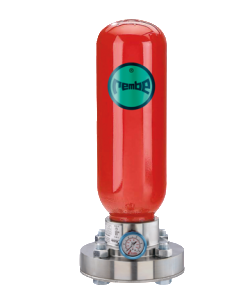 The Q-Bic system is suitable for indoor applications where the explosion cannot be discharged to the outside atmosphere. It extinguishes the explosion at the point of ignition. Combustions are identified and immediately suppressed due to the prompt release of dry powder in the endangered area. The dry powder extracts the heat. The explosion is inerted. As the explosion is limited consequential losses are reduced to a minimum.