The term "Woodworking" covers a very wide range of applications, dust types, and project sizes. These may range from small school wood shops, to cabinet and furniture manufacturing, all the way up to primary lumber milling and the manufacturing/processes associated with engineered wood products like plywood and MDF. Donaldson has 75 years of expertise in the wood business, and our diverse product line (from 500 to 135,000 CFM) provides for an ideal equipment selection in virtually every wood-related application.​
Woodworking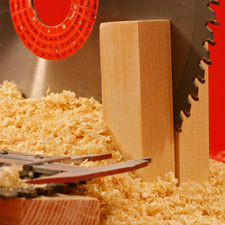 Why collect wood dust?
Safety Issues
Wood dust is a combustible material and those operations generating or handling wood dust can require special mitigation efforts to minimize fire and explosion risks. Standards such as NFPA 664 can provide guidance for those who generate and handle these types of dusts. See the Donaldson Dust Collectors and Combustible Dust Strategies brochure.
Some varieties of wood dust also have identified adverse health impacts. Examples include western red cedar as a designated sensitizer for asthma, and oak or beech dusts classified as Type 1A carcinogens. For dusts from soft and hardwoods OSHA has set a standard at 5 mg/m3 for respirable dust and 15 mg/m3 for total dust. NIOSH has a lower recommended exposure limit of 1 mg/m3.
Housekeeping and Product Quality
Even if wood dust is merely the 'nuisance' variety, it can be a problematic aspect of housekeeping and be a real eyesore on an otherwise clean-looking shop. Additionally – if there is any 'finish' work in the process (painting or lacquer, etc), airborne dust has an adverse affect on product quality.
Worker Productivity and Morale
A dust-free manufacturing environment leads to greater productivity and accuracy, and contributes to worker satisfaction.
Reclaim Value
Many types of wood dusts, in sufficient production quantities, have intrinsic resale value in a secondary market.
WOOD DUST TYPES
Wood dust or sawdust is a broad category, consisting of several types, sizes, and shapes of materials. Important variables include:
- wood species (hardwoods have different characteristics than softwoods),
- moisture content ('green' or dried),
- presence of other materials (as in plywoods or particleboard, etc), and
- application or machinery that is generating the dust.
Generally speaking, wood dust can be broken down into one of (3) basic categories:
​
Class I Wood Dust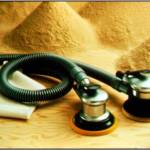 Class I wood dust is light/fine dust, typically from sanding machinery and hand sanding.
---
Class II Wood Dust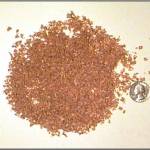 Class II wood dust is medium sized, typically from saws, routers, jointers, molders, shapers.
---
Class III Wood Dust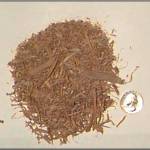 Class III wood dust is larger more fibrous dust, typically from planers, edge banders, lathes, band saws, mills/hogs.
---
SIZING AND SELECTING A DUST COLLECTOR FOR WOOD
Let Donaldson, and our team of experts, help you size and select the perfect dust collector for your wood application. We will survey your shop or plant at no charge, and provide a prompt and technically reliable price quotation. Some of the key information we will need to accurately size a system --
- Airflow Requirement in Cubic Feet per Minute (CFM): _____
- Dust and application characteristics: _____
- Intermittent or continuous (production): _____
- Collector location (indoor or outdoor): _____
- Volume of dust discharge / takeaway: _____
Small Woodshop Layout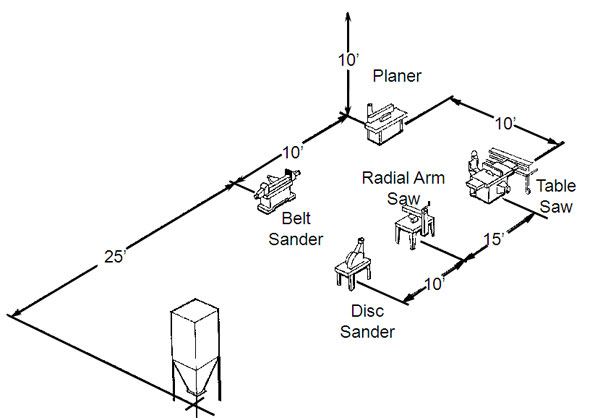 ---
AIRFLOW (CFM) REQUIREMENTS FOR COMMON WOODWORKING MACHINERY
The table below is a general guideline, and is based on 4,500 feet per minute transport velocity in the ductwork. Woodworking machinery and more specific CFM requirements are extensively covered in the "Industrial Ventilation: A Manual of Recommended Practice" published by ACGIH.
| | | |
| --- | --- | --- |
| Machine Type | Airflow Requirement | Duct Branch Diameter |
| Radial Arm Saw | 400-600 CFM | 4" or 5" duct |
| Table and Circular Saws (to 16") | 400 CFM | 4" duct |
| Swing Saw (to 20") | 400 CFM | 4" duct |
| Band Saw | 600 CFM | 5" duct |
| Disc Sander (to 18") | 400 CFM | 4" duct |
| Disc Sander (to 26") | 600 CFM | 5" duct |
| Drum Sander (to 31", each drum) | 600 CFM | 5" duct |
| Belt Sander, enclosed (to 8") | 600 CFM | 5" duct |
| Belt Sander, enclosed (to 14") | 900 CFM | 6" duct |
| Jointer (to 12") | 400 CFM | 4" duct |
| Jointer (to 20") | 600 CFM | 5" duct |
| Planer, single/top (to 20") | 900 CFM | 6" duct |
| Planer, single/top (to 32") | 1200 CFM | 7" duct |
| Lathe (small) | 400 CFM | 4" duct |
| Lathe (large) | 600 CFM | 5" duct |
| Molders, CNC routers, wide belt sanders, multi-head CNC saws, etc | Consult machine tool manufacturer for CFM requirements | Consult machine tool manufacturer for CFM requirements |
NOTE: The 'primary manufacturing' processes related to the production & manufacturing of engineered wood products like plywood, particle board, and MDF utilize specialized production machinery that typically requires larger CFM requirements and a more engineered system approach to dust collection. Processes involving dryers, press vents, wood-fired boilers, hammermills and wood-hogs (and many others) can involve variables such as elevated temperature or moisture and very high dust loading. Donaldson has been on the leading-edge in dust collector design for these industries for over 50 years. Contact us to provide a review of your facility or to provide references and examples of the hundreds of installations that have relied on our expertise.
DUST COLLECTOR 'TYPES' FOR WOOD APPLICATIONS
Because of the wide variation in wood applications (by airflow, dust loading, dust type), there are multiple types of dust collectors that could be suitable. Refer to the Related Products section on the prior web page to learn more about the Donaldson® Torit® dust collector 'families' of products that can be applied to wood applications. Our PowerCore CPC is the latest breakthrough product that has revolutionized the approach to woodworking dust collectors. It combines an ultra-high efficient filter with a "smaller & smarter" footprint and the lowest maintenance cost in the industry. Traditionally, baghouses have been the most prevalent approach to solving wood dust issues. Donaldson offers seven different baghouse models (in over 90 size configurations) to satisfy virtually every need. While Cyclones have been around for a long period of time (pre-dating baghouses and other types of systems), they can be an economical and practical solution when applied properly; Donaldson offers a complete cyclone lineup. In certain wood applications, cartridge collectors can be utilized. The Donaldson DFO Cartridge Collector is the recognized leader in this category, and is the proud winner of Filtration Products "Product of the Year."
DUST DISCHARGE AND DISPOSAL
A key part of the equation in selecting the right dust collector for wood applications is the consideration of how much material will be collected by the unit, and what size of storage device will be utilized for the collected dust. Donaldson offers the widest selection of options available, from small drawers or drums for light-loading applications, to medium and full size bins and roll-off dumpsters. Shown below are some typical discharge arrangements.
​
Simple bag discharge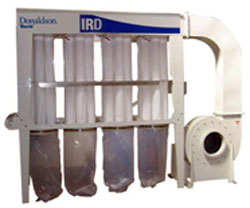 ---
55-gallon drum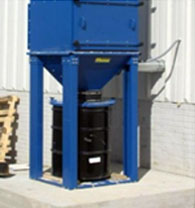 ---
4-yard bin with lid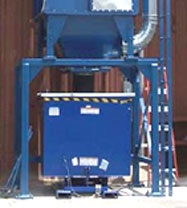 ---
40-yard roll-off bins with bin house and transfer screws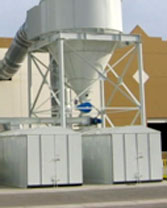 ---
COMMON MISTAKES IN SELECTING A DUST COLLECTOR FOR WOOD DUST
1. There are a host of inexpensive point-of-use simple dust collectors on the market. These can consist of nothing but a blower/fan and a bag or drum. While these may have utility in a small intermittent 'hobby' type shop, they can present problems for any type of production environment. These are typically light-gauge construction, with filter media that is not very efficient, and without means to clean the bag or filter. These devices commonly have leaking and/or plugging issues. Additionally, these units may not be consistent with a combustible dust strategy as outlined by OSHA.
2. Cyclones serve a valid niche in the woodworking market, but buyers should be aware of their limitations. Cyclones do not have the filtration efficiency of a media-type device – if there is no 'afterfilter' bag or device, cyclones could be susceptible to some degree of 'blow-by' or fine dust passing out the discharge. If a cyclone is selected, an afterfilter should be utilized. If the cyclone is located outdoors (per OSHA recommendations), the afterfilter bag section should also have a weather enclosure to prevent the bags from being exposed to rain and the elements. Interestingly, a cyclone with afterfilter bags and weather enclosure often reaches or exceeds the price point of a fully-integrated baghouse or other device, so buyers should weigh several options.
3. Given the wide range of dust collector types that could be suitable for wood dust collection, a buyer should be careful when working with a vendor who only manufactures a single type of system. For example, a cartridge collector manufacturer might only be able to provide a solution that suggests a cartridge collector, when a baghouse or other device might be more suitable for fibrous or heavy dust.
LEGISLATION (OTHER FEDERAL AND LOCAL LEGISLATION MAY APPLY)
- US EPA
Particulate Matter (PM):
- 40 CFR 60.300 Subpart DD - Standards of Performance for Grain Elevators - No more than 0.023 g/m3
- PM 2.5 = 15 µg/m3 (annual), and 35 µg/m3 (24-hour)
- PM 10 = 150 µg/m3 (24-hour)
- OSHA REGULATIONS
- 29 CFR 1910.1000 - Air Contaminants, NOTE: Twenty-five states, Puerto Rico and the Virgin Islands have OSHA-approved State Plans and have adopted their own standards and enforcement policies. For the most part, these States adopt standards that are identical to Federal OSHA. However, some States have adopted different standards applicable to this industry or may have different enforcement policies.
- 29 CFR 1910.94: Wood Dust Ventilation
REFERENCES
Industrial Ventilation Manual
NIOSH Publication No. 76-179
WAC 296-818-500
AP-42, Compilation of Air Pollutant Emission Factors, Chapter 9
AP-42, Compilation of Air Pollutant Emission Factors, Chapter 10​