Mist collection, when properly selected and applied, helps maintain a better work environment and reduce maintenance on process machinery.
Wet Machining (Mist Collection)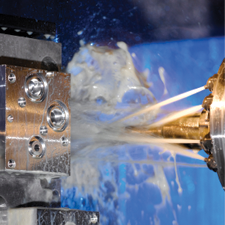 Why the need for Mist Collection
Productivity and Worker Moral - Mists, including water or oil, often create a film that can collect on surrounding surfaces. Mist collection when properly selected and applied helps reduce this situation, maintaining a better work environment and reducing maintenance on process machinery as outlined in Donaldson's Filtration Technology for Mist Industries. Workers are likely to more productive when they do not have to deal with ambient nuisance coolants, oils and lubricant mists.
Reclaim Value - Many large facilities reclaim their coolant and filter it for re-use. Small machine mounted mist collectors can even drain directly into a coolant sump minimizing consumption of metalworking fluids, achieving cost savings.
Mist Generation
The industry's need for more machined parts with extremely tight tolerances has led the metalworking industry to require faster production machines; increases in the amount of coolants, oils, and lubricants used; and higher delivery pressures for those coolants. The need for more parts has also let to increases in tooling speeds. All factors affecting the type of mist generated, and the type of mist collector since they each contribute to the characteristics of the mist generated in the process. Typical metalworking operations vary in how the mist is formed, how much of a mist is generated, and size of the mist droplets needing to be captured. Some more typical metalworking operations with droplet sizes are as follows:
Mist Droplet Size
Water-Soluble

Oil

Smoke

Particulate/Fume

Milling

2-20 microns

0.5-10 microns

.07-1 microns

N/A

Turning

2-20 microns

0.5-10 microns

.07-1 microns

N/A

Grinding

2-20 microns

Metal Forming:
- Die Casting*
- Heading /Stamping

2-50 microns

1-2 microns

0.7-1 microns

< 1 micron
N/A

Drawing*

1-20 microns

0.5-2 microns

.07-1 microns

Parts Washing#

up to 10 microns

Heat Treating

0.8-5 microns

0.8-5 microns

.07-1 microns

0.5-2 microns
*Caution: Waxes may be present
# Mist may contain water, water vapor and rust inhibitors
Beyond the typical operations noted above are operations such as EDM machines, lube oil reservoirs and plastic molding/extruding machines, which also produce mists. With over 40 years of experience, Donaldson® Torit® can provide collectors and guidance in collector selection. Refer to Donaldson's Technical Reference Guide on Mist Collection of Metalworking Fluids for in depth discussion on mist collection for these operations.
Donaldson offers a line of mist collectors from a single source machine mounted unit, all the way to a central mist collector. Donaldson Torit's WSO Mist Collector with its unique Synteq XP™ filter media is an extremely versatile collector for all operations. It can provide a solution for water-soluble coolants, straight oils, or the operation that have oily smoke. If your machining operations change, the only modification is a filter change.
In addition to the WSO, you can apply the Dryflo® (MMA, MMB) Mist Collector and Centrifugal Mist Collector as single source machine mounted collectors. Single source collectors offers a production facility more flexibility. Donaldson's Mini-Mist and Modular Media Filter™ provide excellent solutions for operations where mist and particulate fume are generated in a process, and for exhaust air in general plant ventilation the horizontal Modular Media Filter.
Special Considerations
​Some coolants can be corrosive to sealing materials and gasket material. Provide proper coolant data to your mist collector supplier to minimize any risk of coolant/oil not being compatible with the sealing and gasket materials used in the mist collector to avoid leaks.
The design and components of any duct system must take into account the amount of coolant or lubricant that may collect in the ducts prior to the mist collector. Sloping the ducts, and provide a means for coalesced coolants to exit the duct are just a couple of examples of actions to consider.
Mist collection hoods at the machine take-offs should be designed and located to limit mist collection to only airborne mist. Avoid directing excess coolant into a hood.
In order for a mist collector to properly function, always ensure a proper trap or storage device is used so collected coolant or lubricant can drain from the collector.
A monitoring HEPA or 95% DOP filter option is available. These after-filters commonly provide an indication of performance for the primary filter. These filters may also minimize the discharge of particulate smoke generated by metalworking operation.
Studies by OSHA and other agencies have shown that many coolants, oils and lubricants have adverse health effects. OSHA has established standards for permissible exposure of workers for many of these metalworking fluids, so before you consider any mist collection equipment check current OSHA standards for your coolant, oil, or lubricant by going to their website at www.osha.gov.
LEGISLATION (OTHER FEDERAL AND LOCAL LEGISLATION MAY APPLY)
- US EPA
Particulate Matter (PM):
- PM 2.5 = 15 µg/m3 (annual), and 35 µg/m3 (24-hour)
- PM 10 = 150 µg/m3 (24-hour)
- OSHA Regulations
- 29 CFR 1910.1000 - Air Contaminants, NOTE: Twenty-five states, Puerto Rico and the Virgin Islands have OSHA-approved State Plans and have adopted their own standards and enforcement policies. For the most part, these States adopt standards that are identical to Federal OSHA. However, some States have adopted different standards applicable to this industry or may have different enforcement policies.
REFERENCES
Industrial Ventilation Manual
NIOSH Publication No. 76-179
WAC 296-818-500