Donaldson® Torit® dust collectors are in hundreds of thermal spray applications worldwide. Our advanced Ultra-Web®nanofiber filtration technology is supremely suited for applications involving thermally generated fume, especially when installed in a Donaldson Torit dust collector selected for your application.
Thermal Spray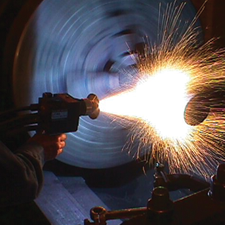 Thermal Spray or Metalizing is a group of coating processes which deposits finely divided metallic or non-metallic materials in a molten or semi-molten condition on a surface/substrate to form a coating. The coating material may start out in the form of a powder, ceramic rod, wires, or even molten materials. The process has the potential to generate very small particulate often referred to as "fume". This thermally generated fume can be smaller than one micron in diameter, and uniform in size making collection a challenge.​​​
THERMAL SPRAY COATING PROCESS

---
Processes Involving Thermal SprayThe thermal spray processes involves such heat that the process produces a very fine dust (fume), typically sub micron in size and very uniform. Some of the materials used in thermal spray applications have associated adverse health effects, and defined minimum exposure limits set for them, which necessitates effective dust collection.
Following are terms for typical thermal spray processes that produce fumes needing to be controlled;
​- Flame Spray
- Powder Flame Spray
​- Wire Flame Spray
- High Velocity Oxy/Fuel Spraying (HVOF)
​- Cold Spray
- Plasma Arc Spray
- ​Electric Arc Spray ​
Related processes producing contaminants—surface preparation and finishing operations
- Abrasive blasting
- Grinding
- Wet machining
Special Considerations
Many metal fume dusts are combustible and those operations generating or handling metal fumes can require special mitigation efforts to minimize fire and explosion risks. Standards such as NFPA 654 can provide guidance for those who generate and handle these types of dusts. See the Donaldson Dust Collectors and Combustible Dust Strategies brochure.
Metal fume dusts may also have identified adverse health impacts, and special mitigation strategies may be required to limit occupational exposure below levels OSHA or other health organizations have established for these materials.
LEGISLATION (OTHER FEDERAL AND LOCAL LEGISLATION MAY APPLY)
- US EPA
Particulate Matter (PM):
- PM 2.5 = 15 µg/m3 (annual), and 35 µg/m3 (24-hour)
- PM 10 = 150 µg/m3 (24-hour)
National Emissions Standards for Hazardous Air Pollutants for Plating and Polishing Operations contains language related to thermal spray processes containing cadmium, nickel, lead, manganese, and/or chromium.
- OSHA Regulations
- Directive CPL 03-00-013: National Emphasis Program – Primary Metal Industries May 19, 2011
- Directive CPL 02-02-076: National Emphasis Program – Hexavalent Chromium Feb 23, 2010
- Directive CPL 03-00-008: Combustible Dust National Emphasis Program (Reissued) Mar 11, 2008
- 29 CFR 1910.1000 - Air Contaminants, NOTE: Twenty-five states, Puerto Rico and the Virgin Islands have OSHA-approved State Plans and have adopted their own standards and enforcement policies. For the most part, these States adopt standards that are identical to Federal OSHA. However, some States have adopted different standards applicable to this industry or may have different enforcement policies.
REFERENCES
Industrial Ventilation Manual
NIOSH Publication No. 76-179
WAC 296-818-500