Donaldson® Torit® has a wide variety of dust collectors for the Pharmaceutical industry ranging from small DFO's for point of source collection at a packaging line to large specialized containment dust collectors customized to meet the needs for a specific product.
Pharmaceutical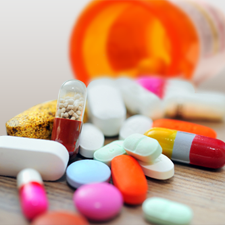 The pharmaceutical industry generates a variety of products that can become a nuisance dust during production and packaging. Depending on the application, there may be concern with cross contamination of other products, cGMP issues, as well as occupational exposure limits to limit plant worker exposure to active pharmaceutical ingredients (API's).
Collector Design Considerations
- The design and construction of dust collectors, containment devices may need to address a range of potential issues; including configuration decisions to minimize material build-up, seam sealing of collectors and ducts, duct attachment and sealing techniques, and potential use of secondary monitoring filter such as HEPA filters.
- In some instances, devices with special seals are required to reduce or eliminate the discharge of dust from the dust collector when transferring material to storage containers for disposal. (See customized 50 ft liner system video above.)
- In other situations, custom sealed filter change-out procedures may become necessary during filter servicing to reduce exposure when the dust in the collector has potentially adverse health impacts. (See custom sealed filter change video above.)
Pharmaceutical Processes That May Generate Dust
​- Crushing
- ​Milling
- Screening
​- Micromization
- ​Mixing
- Pelletizing
- Dispensing
- Sampling
​- Granulating
- ​Drying
- Coating
​- Batching
​- Blending
- Compressing
- ​Weighing
- Packaging
The following diagram shows pharmaceutical processes in gray that may require dust collection: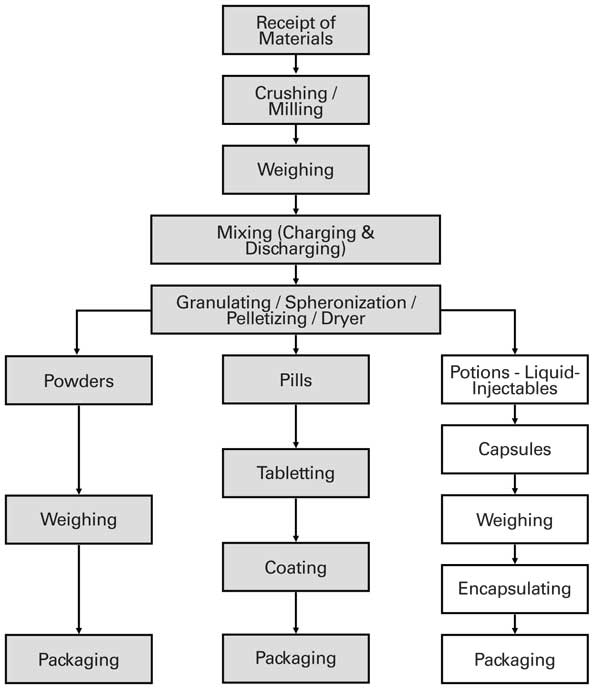 ---
Special Considerations
Many pharmaceutical dusts are combustible and those operations generating or handling pharmaceutical dusts can require special mitigation efforts to minimize fire and explosion risks. Standards such as NFPA 654 can provide guidance for those who generate and handle these types of dusts. See the Donaldson Dust Collectors and Combustible Dust Strategies brochure.
Pharmaceutical dusts may also have identified adverse health impacts, and special mitigation strategies may be required to limit occupational exposure below levels OSHA or other health organizations have established for these materials.
Equipment Options
- Stainless steel contact surfaces
- Wash down/clean out designs
- FDA approved paint
LEGISLATION (OTHER FEDERAL AND LOCAL LEGISLATION MAY APPLY)
- US EPA
Particulate Matter (PM):
- PM 2.5 = 15 µg/m3 (annual), and 35 µg/m3 (24-hour)
- PM 10 = 150 µg/m3 (24-hour)
National Emissions Standards for Hazardous Air Pollutants includes specific amendments related to the pharmaceutical production industry.
- OSHA Regulations
- 29 CFR 1910.1020 and 29 CFR 1910.1200
- 29 CFR 1910.1000 - Air Contaminants, NOTE: Twenty-five states, Puerto Rico and the Virgin Islands have OSHA-approved State Plans and have adopted their own standards and enforcement policies. For the most part, these States adopt standards that are identical to Federal OSHA. However, some States have adopted different standards applicable to this industry or may have different enforcement policies.
REFERENCES
Industrial Ventilation Manual
NIOSH Publication No. 76-179
WAC 296-818-500
Custom Bag-in/Bag-Out (BIBO) Filter Change-Out
View a custom sealed filter change-out procedure.
Custom 50 Ft Liner Dust Discharge with Air-Lock
Depiction of the process for replacing the custom dust collector hopper discharge system.
Custom Bag Crimping Demo
Process using the ILC Dover crimping tool on the custom Bag-in/Bag-out system.