Donaldson® Torit® provides dust, mist, and fume collectors to a broad range of manufacturers across a wide range of industries. We offer customization options to Original Equipment Manufacturers serving industry to package with their own products.
Custom OEM Applications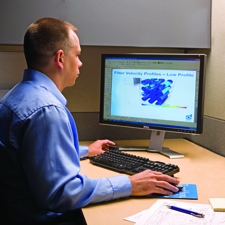 Customizations range from basic private branding and labeling, through clean sheet designs with unique volumetric shapes. Typical requirements may include controls integration, unique inlet connections, custom filter shapes and dimensions, and unique structural requirements. We have the necessary design tools and resources to meet your requirements.
How Can our OEM Capabilities Help Your Business?
- Dedicated Engineering and Sales Support—Donaldson's organization includes dedicated Sales and Engineering group to support OEM customers.
- One Source Solutions—Many applications require fume or dust management. Packaging our collectors with your own equipment provides a single source solution for your customers. Integrated controls, plug and play designs, unique inlet connections, and other enhanced features reduce on site start up requirements.
- Benefit from Donaldson knowledge—For decades, Donaldson Torit has offered advanced and reliable dust collectors and filters. The pairing of these industry-leading collectors and filters helps increase manufacturing efficiencies and provides a cleaner environment for employees.
- Leverage Donaldson filtration and cleaning technology—Donaldson Torit invented the cartridge collector and has led the way for continuous innovation with award-winning products such as Torit® PowerCore® dust collectors and filter packs. Proprietary Ultra-Web® nanofiber filter media – the first of its kind – was developed by Donaldson. On the market for three decades, this media technology increases filtration efficiency and simplifies maintenance.
- Leverage the Donaldson global reach—We can support you in established and existing markets around the world. Our worldwide sales staff can be of help with installation questions or replacment part concerns at a local level. Donaldson's worldwide manufacturing presence offers options for local manufacturing and reduced transportation costs. Our global engineering presence provides a knowledgable resource for local codes and requirements.
- Leverage our brand identity—Donaldson Torit is the name more manufacturers trust to deliver efficient and productive dust, mist and fume collectors and filter media. The predominance of blue collectors across a wide array of industries is testimony to Donaldson Torit's industry leadership. People work with Donaldson Torit because they recognize the reliability and strength of the Donaldson Torit name.
- Maintain your brand identity—Do you have a strong brand presence in your industry? Let us provide Donaldson quality mist, fume and dust collection products for you using your branding. We can provide our standard collection products with your labeling requirements or created unique designs and filter dimensions to create a truly unique product for you.
- Solution that meets your mobile equipment needs—Torit as part of the Donaldson filtration family, has years of experience creating products that can survive and excel in mobile applications.
- Use Donaldson Torit for your aftermarket filters—Get advanced Donaldson Torit replacement cartridge, bag, and panel filters. Our Ultra-Web nanofiber replacement cartridge filters and Dura-Life™ "twice-the-life" replacement bag filters are engineered with proprietary, higher performance industrial air filter media that improve efficiency, save energy and extend cartridge filter and bag filter life.
- Rely on our service organization and experience—Donaldson Torit has authorized service centers and technicians in every major city across the nation dedicated to providing quality service.
OEM Markets Served
​Laser/ Plasma cutting
​Pharmaceutical
Thermal Spray
​Abrasive Blast
​Material Conveying
​Mobile Equipment
​Machining
​Powder Coating
Working with Donaldson Torit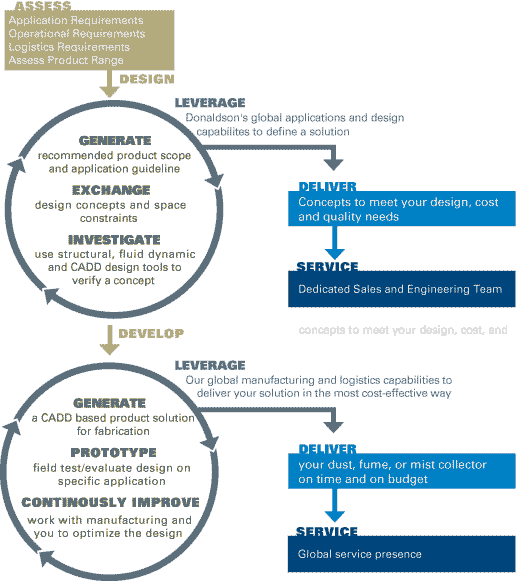 ---
Special Considerations
Many fumes and dusts generated in industrial applications are combustible and operations generating or handling them can require special mitigation efforts to minimize fire and explosion risks. Standards such as NFPA 654 can provide guidance for those who generate and handle these types of dusts. See the Donaldson Dust Collectors and Combustible Dust Strategies brochure.
Many fumes and dusts may also have identified adverse health impacts, and special strategies may be required to limit occupational exposure below levels OSHA or other health organizations have established for these materials.
LEGISLATION (OTHER FEDERAL AND LOCAL LEGISLATION MAY APPLY)
- US EPA
Particulate Matter (PM):
- PM 2.5 = 15 µg/m3 (annual), and 35 µg/m3 (24-hour)
- PM 10 = 150 µg/m3 (24-hour)
National Emissions Standards for Hazardous Air Pollutants contains specific language associated with welding and thermal cutting processes associated with materials containing cadmium, nickel, lead, manganese, and/or chromium
- OSHA Regulations
- 29 CFR 1910.1000 - Air Contaminants, NOTE: Twenty-five states, Puerto Rico and the Virgin Islands have OSHA-approved State Plans and have adopted their own standards and enforcement policies. For the most part, these States adopt standards that are identical to Federal OSHA. However, some States have adopted different standards applicable to this industry or may have different enforcement policies.
REFERENCES
Industrial Ventilation Manual
NIOSH Publication No. 76-179
WAC 296-818-500