Cement production and mineral processing are complex processes with challenges related to dust collection. Many steps of the process require dust control, and each step presents its own set of challenges related to material properties, moisture, and temperature.​​​​​​​​​​​
Cement and Minerals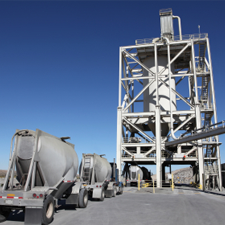 Donaldson® Torit® has dust collectors designed for each step of the process. We understand environmental challenges facing the cement industry today and our products provide the robust, yet easy to service designs required, to help you meet or exceed current and future emissions regulations. Donaldson Torit dust collectors in hundreds of cement plants worldwide are operating as both "source capture" and "remote mounted" dust collection solutions.
Following are a few examples of dust control opportunities:
- Limestone Quarrying
- Primary & Secondary Crushing
- Additive Blending & Storage
- Material Transfer & Storage
- Raw Feed Grinding & Storage
- Cement Kiln Dust Capture & Handling
- Clinker Handling & Storage
- Gypsum Handling & Storage
- Lime Storage & Injection
- Fly Ash & Activated Carbon Handling & Storage
- Finished Cement Handling, Storage, & Distribution
Where practical, Donaldson advocates "source collection" designs in plant applications. This design has the dust collector operate right near the point of dust creation. An example would be at a belt transfer point (instead of using a hood and ductwork to a central or remote collector) where the captured dust is returned directly to the process.
Advantages OF source Dust Collection
- Less ductwork
- Fewer discharge systems
- Lower purchase costs
- Lower energy consumption
Both the Torit® PowerCore® CPV-Series and Torit Dalamatic® Series collectors are well suited for source collection strategies.
Torit PowerCore (CP-V) dust collectors offer many advantages over traditional "baghouse" designs. Utilizing Ultra-Web® media, PowerCore filter packs provide higher efficiency and better dust release properties. Their compact size allows for installation in places never considered before and perhaps most interesting, they offer easy filter change-outs that can save maintenance costs.
The Dalamatic Insertable (DLMV) is also a popular choice in the cement industry. Easily integrated in the majority of material handling processes, it uses "envelope style" filter bags with a shorter length than conventional round bags. This design offers superior dust release versus many other "bag style" products on the market and design modifications are available for high temperature and high moisture environments.
Where "source collection" is not a viable option, we offer several styles of dust collectors to mount remotely from the actual dust generation point. Each series of Donaldson Torit dust collector offers a unique set of features and physical characteristics, thus allowing a customized solution for virtually any cement or minerals processing application. Donaldson Torit dust collector options would include the following products:
Torit PowerCore CPC Series Dust Collector
Dalamatic Cased Dust Collector
MB Baghouse Dust Collector
RF Baghouse Dust Collector
Processes In a Cement Plant
Processes involving cement production are often material handling applications at various stages:
- Crushers,
- Milling,
- Conveyors,
- Elevators,
- Classifiers,
- Separators,
- Bins & Silo Venting,
- Packing,
- Rail, Road, & Ship Loading & Unloading
The cement production diagram below identifies where dust control may often be required.
---
Special Considerations for Cement Dust*
Abrasion
Abrasion is a big challenge in cement dust collection. It is imperative to size dust collectors to limit velocities of abrasive particles thus keeping wear to a minimum.
Moisture
Moisture is inherent in some of the processes in cement production. It is important to consider moisture content of each application prior to selecting a filtration technology.
Dust Loading
Dust loading is a challenge in many processes in a cement plant. Proper design of dust collection hooding is essential to keeping capture velocities high enough to eliminate emissions but low enough not to pull valuable product out of the production stream and into the dust collector.
*Please contact your Donaldson Torit Representative for more details regarding design considerations of these and other cement plant dust challenges.
LEGISLATION (OTHER FEDERAL AND LOCAL LEGISLATION MAY APPLY)
- US EPA
Particulate Matter (PM):
- PM 2.5 = 15 µg/m3 (annual), and 35 µg/m3 (24-hour)
- PM 10 = 150 µg/m3 (24-hour)
- 75 FR 54970 – National Emission Standards For Hazardous Air Pollutants From Portland Cement Manufacturing Industry And Standards Of Performance For Portland Cement Plants. 09/10
- OSHA Regulations
- 29 CFR 1926.55, 29 CFR 1910.1000, and 29 CFR 1915.1000, OSHA has established a permissible exposure limit to address the inhalation hazards of working with dry portland cement. Employers must limit airborne exposure to portland cement to 15 milligrams per cubic meter (mg/m3) of air for total dust and 5 mg/m3 for respirable dust. Because the Cr(VI) content in portland cement is so low, it is anticipated that by meeting the permissible exposure limit (PEL) of 15 mg/m3 for portland cement, employers will also meet the Cr(VI) PEL and action level of 5 and 2.5 micrograms per cubic meter (μg/m3) respectively (see 1926.1126).
- Directive CPL 03-00-007: National Emphasis Program - Crystalline Sillica Jan 24, 2008
- 29 CFR 1910.1000 - Air Contaminants, NOTE: Twenty-five states, Puerto Rico and the Virgin Islands have OSHA-approved State Plans and have adopted their own standards and enforcement policies. For the most part, these States adopt standards that are identical to Federal OSHA. However, some States have adopted different standards applicable to this industry or may have different enforcement policies.
REFERENCES
Industrial Ventilation Manual
NIOSH Publication No. 76-179
WAC 296-818-500
AP-42, section 11.6: Compilation of Air Pollutant Emission Factors
What is a hydro-entanglement process?
Instead of a mechanical process using needles to entangle and compress polyester fibers into a felt material, the hydro-entanglement process uses jets of water to entable and compree the polyester fibers into felt. The process creates a material that is more uniform and provides better filtration.
How are Dura-Life bags different from standard polyester bags?
Dura-Life bags are made from polyester material that is created through a hydro-entanglement process instead of a needle punch process. The hydro-entanglement process creates a more consistent and uniform filter material. The material is comparable in thickness to standard polyester, but weighs about 1/3 less. The fibers are smaller and the hydro-entanglement process creates a loftier and lighter weight fabric that filters more effectively.